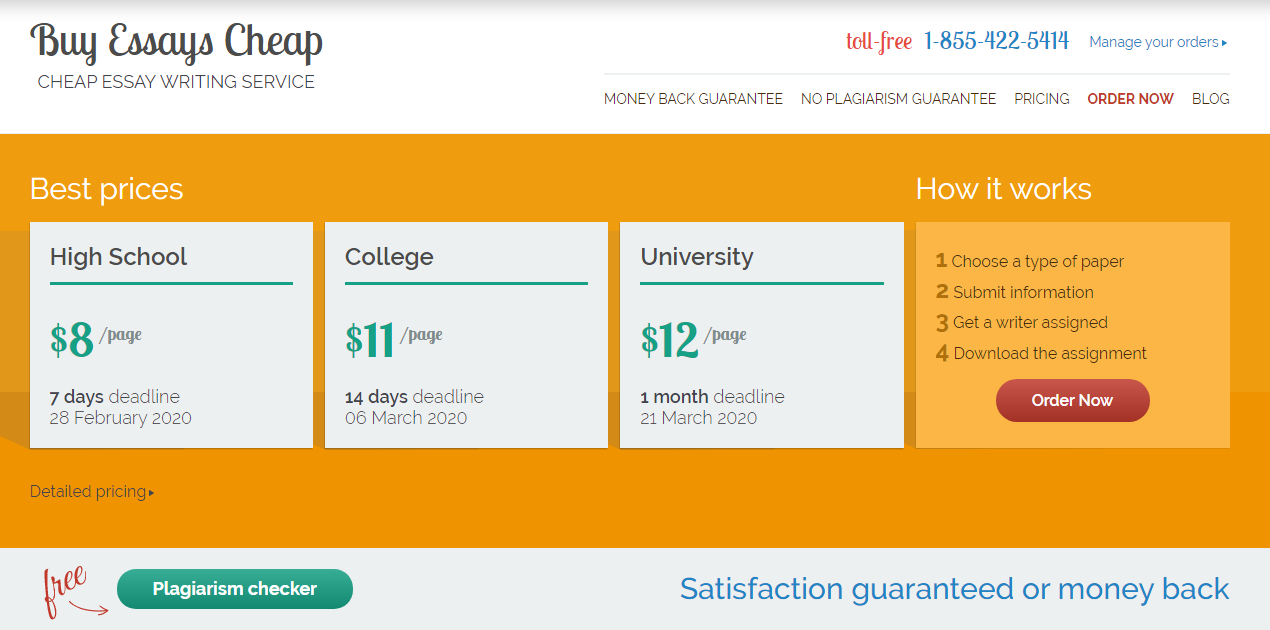 Overview
BuyEssaysCheap.com's website has a visually appealing layout. Most of the details about their services are easy to access. The company states that they offer a large variety of services including custom written academic papers, research essays, homework help, Master's level thesis papers, and dissertations. They also claim to offer papers that are free of plagiarism, 24/7 customer support, and privacy guarantees. BuyEssaysCheap.com contends that they offer the "cheapest" prices in the industry. Is this true? And if so, what does it say about the quality of their work? Let us take a look.
Services
Given how many different writing services there are, the most successful companies are those that have flexibility and a wide choice of options. From that end, BuyEssaysCheap.com seems to offer as many services as their competitors. As noted, they provide academic papers of every type, including complex works of the highest academic levels.
Pricing and Discounts
BuyEssaysCheap.com certainly lives up to its name for the most part, at least on the surface. Like with the majority of writing services, the final price is determined by factors such as the academic level (which they list as school, college, university, master's and PhD), page length, topic, and deadline. For instance, customers who want a high school-level paper with a 7-day deadline receive a listed price of $9/page while an urgent order with an 8-hour deadline would cost $21/page. However, they bump the price by adding value-added tax.
Additional Features
BuyEssaysCheap.com offers free unlimited revisions, formatting, title page, table of contents and reference list page.
When you buy a paper from this website, they have writer qualification options that seem entirely unnecessary. For instance, if you want a writer who has knowledge about your subject, they hit you with an additional 25% fee. We were thinking, "Shouldn't a qualified writer simply come with the service?" Same situation if you wanted a native English speaking writer. They charge 30% extra for that when most other companies by comparison simply make it a policy to hire only native-English speaking writers.
Quality
Our experiences when we received our paper was pretty consistent with what other customers have said. The quality of the writing is poor, the papers contained a lot of grammar mistakes, the choice of words often didn't make sense, and the revisions that we requested did little to improve the content.
Customer Support
The quality of the customer support team was very disappointing. There were long response times when emailing them. When we called them they were clearly more eager to finish up their shifts when they should have been more helpful. They also claimed to be located in America, but their thick accents seemed to prove otherwise.
Conclusion
Taking into consideration all the details of ordering process and all the terms, ordering a paper at a standard price is not beneficial as the quality of the work is unlikely to be good. And ordering additional services which could ensure getting a better product is a way too expensive.