Overview
If you are a student who does not have much writing experience, you will quickly realize what a challenge it is to meet your professor's high standards. This is why it makes sense to order custom academic writing until you have built up enough confidence to write them on your own. The problem is that the custom writing industry is full of companies that are not nearly as good as they claim. But how are you supposed to figure out how to separate the reliable services from the pretenders? Our job is to help you make informed decisions over which company to choose by assessing how many services they provide, their pricing policy and discounts, additional features, quality, and customer support. For this review, we evaluated SuperEssay.org. The website design is straight out of 1998 and the homepage contains way too much text - most of it useless. But if their services are as good as they claim, they can be forgiven for hiring such lousy website designers.
Services
SuperEssay.org does not provide a link to an "Our Services" page, which is a bit of a disappointment. However, if you take a look at the price calculator on their homepage, you can easily figure out whether they are capable of carrying out your assignment. Indeed, the list of services is very comprehensive. In terms of writing, they can handle everything from standard essays all the way up to PhD-level dissertations. Their writing help is not exclusive to students either. They are able to write business reports, CVs, resumes, and even put together PowerPoint presentations. Aside from writing services, they also provide rewriting, editing, proofreading, formatting, and test-taking services.
Pricing and Discounts
SuperEssay.org is a bit on the pricey side. For instance, a high school-level paper with an 11-day deadline costs $14.99 per page and a college paper costs $17.99. This is a few dollars more than average, but perhaps they are deliberately attempting to attract clients with a bit more money to burn. The total cost for a paper depends on a few factors such as the deadline, academic level, number of pages, and the type of service being requested.
Their relatively high prices are alleviated to some degree by their generous discounts. Their first-time discount is 15%, but they offer 20% promo discounts during certain times of the year. They also have a very good lifetime discount program for customers who plan on returning from time to time. For instance, if you order 30 pages (whether it is a single order or multiple orders that add up to 15 pages), you are entitled to a 5% discount. The discount increases to 10% after you accumulate 50 pages and 15% after 100 pages.
In addition, they have a "refer a friend" affiliate program. If you successfully convince a friend to order our services, you receive 10% of whatever your friend paid.
Additional Features
The features at SuperEssay.org are fairly typical. A free title page, table of contents, outline, plagiarism report (per request), a reference page, and revisions (within 48 hours following the order's expiration date).
Quality
We ordered a college-level paper of 5 pages with an 11-day deadline. The topic was about dog psychology because we wanted to be random and quirky. The paper arrived on time, contained no plagiarism, and only a couple of grammar mistakes. The instructions were followed and the sources were reputable. We were very impressed!
Customer Support
The customer support team is available 24/7. We were able to confirm this by contacting them at various points of the day. They were professional, knowledgeable and easy to get a hold of. Basically, they met all of the criteria that any customer would expect.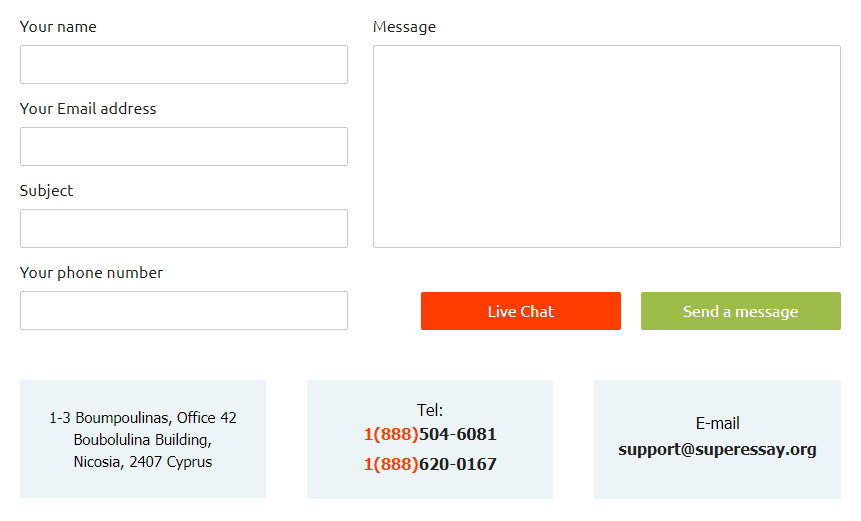 Conclusion
After everything we experienced, we definitely believe SuperEssay.org is a well-run company that looks out for the interests of its customers. Their prices are a bit high, but you will definitely get good quality writing. The customer support agents are also a major asset. We give SuperEssay.org our highest possible recommendation.