Overview
SuperiorPapers.com states that they have been providing academic writing for 21 years, although it is always good to be skeptical about these claims. It focuses exclusively on providing academic work for college and university students. In order to review this company, we are using the same objective criteria that we have used when rating its competitors. We looked for samples, feedback found elsewhere on the Internet, and ordered a research paper ourselves. Let us see how SuperiorPapers.com stacks up.
Services
SuperiorPapers.com caters to high school students all the way up to PhD level and states that it provides essays, papers, projects and other academic services. They also provide editing/proofreading services, can help students finish their papers, and take online-based tests for students. They offer progressive dissertation services in which the customer can receive parts of their paper chapter by chapter, which can be a good thing for students who want to be part of the process.
Pricing and Discounts
SuperiorPapers.com's pricing scheme is middle-of-the-road when compared to its counterparts. The cheapest paper (high school level, longest possible deadline) costs $20.99 per page. Graduate-level papers start at $25.99. We decided to order an 8-page research paper with a 7-day deadline. The price was $175.92. If you are a returning customer, you have an opportunity to pay for "ruby" or "diamond" memberships. The former costs $39 a month or $99 for a year. Things get weird with the diamond membership though. The text lists it at $59.95 a month while in the graphics box the price is $49. They should probably hire one of their editors to proofread their own website.
Additional Features
SuperiorPapers.com offers the same standard free features that you can get with most companies, including a free title page, outline, formatting style, and reference page. They also have a free revision policy if you are not satisfied with the completed order.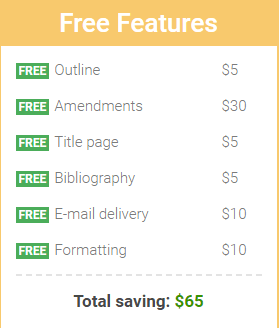 Quality
SuperiorPapers.com receives mixed results. Their on-site reviews are positive, although frankly any reviews posted on any company's website should be taken with a grain of salt. Feedback on social media and review websites is mixed. The company seems to have issues with submitting papers on time, which is a potentially serious problem. Customers were also often negative when it came to the quality of their work and the sources used. On the other hand, the company gets positive reviews when it comes to the writers following the paper's instructions. When we looked at samples, we found that the papers were not always very organized. Furthermore, a lot of the sources appeared to be outdated considering how dynamic the particular topic was. When we received our order, we also discovered that our paper suffered from some of the same problems. However, the directions were otherwise followed and we received the paper by our specified deadline.
Customer Support
The customer support representatives could be reached by phone, Live Chat and email. We asked them questions to test out their competencies. They seemed kind of bored with their job and were difficult to understand since English was clearly not their first language. They weren't always clear about their policies either. For instance, when we asked if we could get a 40-page research paper within 48 hours, the agent said "yes" even though we knew this was completely impossible.
Conclusion
In spite their name, we did not find anything superior about SuperiorPapers.com. The customer support team is clumsy and their papers are subpar. As to the discount program, it is not fully described. It seems their customers need to pay to become a part of their permanent program.